End of my tether, don't say that word!
Areas of this article contain spoilers about What If?. Please proceed with caution.

Read at your own risk.
What If? is the fourteenth episode of Season 8 of Numberblocks and the 119th episode of the series overall.
Synopsis
What if there were a way to explore every possible question? Imagine that! Learn the power of asking questions with the Numberblocks.
Characters
Mathematical concepts mentioned
Infinity: "But how high could you get if forever never ends?"
Orders of Magnitude: "What if you kept writing zeroes after One?"
Powers of 2: "What if you start with a single grain of rice? Then double it, double it, double it every day? "
Fractions: "What if One could be divided into pieces?"
Years: "Would it take a hundred years to reach the top?"
Numerals: "What if the Numberblocks each had a different name?"
...languages that only have words for 1-3, I guess? "One, two, three, plenty, many, lots!"
Numeral systems and number bases: in the same scene as above, 4, 5, and 6 are shown as "three-one", "three-two", and "three-three", which is similar to Ternary.
Abstract thinking: "What if the Numberblocks all disappeared one day? Would One and Two and Three still equal Six?"
Negative Numbers: "What if there could be a number less than Zero?"
Trivia
This is the 2nd appearance of the What-Iffer
This is also the second appearance of One Thousand, Ten Thousand, One Hundred Thousand, and One Million.

The episode also introduces Ten Million, One Hundred Million, and One Billion.

3 asks "What if we could build a tower to the moon?", but 6, 7, 8, 9, and 10 have already built a tower to a different planet.
This is the second appearance of the full-month calendar.

Oddly, Thirty-One doesn't appear in this episode, though he does make a cameo ON the calendar.

There are references to Twoland, One Thousand and One, Figure It Out (the calendar), and some other episodes.
This is the last episode of Season 8 that introduces a math concept since 100 Ways to Leave the Planet is mainly a recap of the show.
Sixty-Four is a bit bigger in this episode.
This is the first time a numberblock reaches the height of 1000 blocks
This episode ends the longest streak of Numberblocks (starting from Four On The Floor) to introduce a new character every episode, 6 episodes.
This is the first episode where a Numberblock isn't their usual size. The second being The Case of the Missing Blocks.
Errors
In one scene where 10 Million appears, her pupils are visible when she closes her eyes.
Videos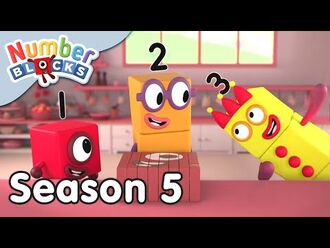 ---
Series 1
High Five!
One, Another One, Two, Three, One, Two, Three!, Four, Five, Three Little Pigs, Off We Go, How to Count, Stampolines, The Whole of Me, The Terrible Twos, Holes, Hide and Seek
Series 2
Ten out of Ten
Six, Seven, Eight, Nine, Ten, Just Add One, Blast Off, Counting Sheep, Double Trouble, The Three Threes, Odds and Evens, Fluffies, The Two Tree, Numberblock Castle, Ten Green Bottles
Series 3
Number Fun
Once Upon A Time, Blockzilla, The Numberblocks Express, Fruit Salad, Zero, Now We Are Six to Ten, Numberblobs, Building Blocks, Peekaboo!, Hiccups, What's the Difference?, Numberblock Rally, Five and Friends, Octoblock to the Rescue!, Ten Again
Fifteen and Friends
Flatland, Pattern Palace, The Legend of Big Tum, Mirror, Mirror, The Wrong Number, Eleven, Twelve, The Way of the Rectangle, Ride the Rays, Block Star, Thirteen, Fourteen, Fifteen, Tween Scenes, Step Squads
Series 4
Season 5
Fifteen's Minute of Fame, On Your Head, Ten's Place, Balancing Bridge, Sixteen, Square Club, Seventeen, Eighteen, Loop the Loop, Nineteen, Twenty, Tall Stories, Flights of Fancy, I Can Count to Twenty, Heist
Season 6
Sign of the Times, Fun Times Fair, The Lair of Shares, Terrible Twosday, Divide and Drive, Twenty-One and On, We're Going on a Square Hunt, Thirty's Big Top, Land of the Giants, Fifty, Sixty's High Score, The Big One, One Hundred, One Thousand and One, More To Explore
Series 5
Season 7
Your Turn, Now You See Us, Ten's Top Ten, What's My Number?, Fun Times One Times Table, The Many Friends of Twenty, Ten Vaulting, Twoland, Two Times Shoe Shop, Odd Side Story, How Rectangly!, Rectangle Racers, The Team Factor, Hidden Talents, Making Patterns
Season 8
Now in 3D, Club Picnic, Too Many Threes, Circus of Threes, Figure It Out, Snow Day Doubles, Steps Versus Squares, Puzzle Square, Four on the Floor, Sky High Fives, One Giant Step Squad, Square on the Moon, Heroes With Zeroes, What If?, 100 Ways to Leave the Planet
Specials
The Treasure of Hexagon Island, Double Back, About Time, The Twelve Days of Christmas, Making Friends, Crossover, The Case of the Missing Blocks, The Blocks v Blocks Games
Other Stuff
Numberblocks Theme Song, Fourth Wall Breaks