What's My Number? is a game show in Numberland owned by Six.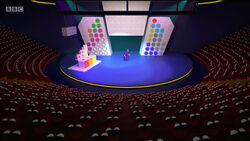 Gameshow Rules
You have to guess the number shown without counting. There are four rounds.
For the first three rounds, a door will open and it will show how many blocks are filled in.
If you answered, the Numberblock in the door will be revealed.
If you get one correct, two stars lights up on the board.
And for the fourth round, a Numberblock's home will be shown on a screen, and you have to guess whose home is on the screen with only 8 seconds to answer. There are clues in the room like how many things are there.
Four stars will light if you get the fourth round correct.
If you get all ten stars lighted up, you win the game!
Episode Appearances
Locations in the Learningblocks series
Locations!

Numberland, The Moon, Numberblock Castle, Numberblocks Express Station, Three's Fruit Factory, Alien Planet, Peekaboo Rooms, Wall of Measurements, Rally Race Track, Terrible Twos' Lair, Flatland, Pattern Palace, Blocky Mountain, Rectangle Retreat, Ray Canyon, Block Star, Skate Park, Fifteen's Talent Show, Ten's Place, Numberblocks' Planets, Balancing Bridge, Square Club, Loopers, Museum of Numbers, Square Temple, Numberblobs Show, Wizard Magic Spell, What's My Number?, Legendary One Times Table Forest, Ten Vaulting, Twoland, The Shoe Shop, Rectangle Ray Race, Team Tag Arena, Pattern Wall, The Circus of Threes, The Dance Floor, Tower of Rock, Numerical Towers, Numberland Stadium, Two Palms Dance Floor, Fun Times Fair

Locations!