Web is an episode of Series 2. 
Story
W is walking around. He trips over, but leaves his hanky behind. He starts to wail. But lucky that X comes by and returns the hanky to W. W writes a "w" on screen. He comes out dressed as a superhero named Wonder W. He goes out to save someone, but no one needs to be saved at all.
w-e-b, WEB!
A web captures W, E, and B. X comes to the rescue.
o-x, OX!
X gets them out in two shakes of an ox's tail. Next W hears someone cry for help. B, O, and G are stuck in a bog. W tries to rescue them, but ends up stuck, too. W says he's not a superhero. He just makes everything worse and he starts to cry. Luckily, X comes again. It's his very busy day today.
b-o-x, BOX!
A box makes them unstuck. I tries to give three cheers for the exciting X.
s-i-x, SIX!
A box has turned into 6 boxes, making them a box monster! X wants to help as the others scatter.
x-e-t, XET!
It doesn't work. X is in trouble! W decides to be a hero again.
w-e-t, WET!
It starts to rain and the box monster runs away. X thanks W for saving him, but W doesn't need the hanky anymore.
X says that he can have it.
Characters (in their order of appearance)
Words
Trivia
A, C, D, F, H, J, K, L, M, N, P, Q, R, U, V, Y and Z are absent in this episode.
This is the only episode where a nonsense word is sounded out by X.
G, O, and S only say their sound in this episode.
In this episode, W breaks the fourth wall by writing a W on the screen
Nonsense Words
XET
Short name for xyloglucan endo-transglycosylase.
Videos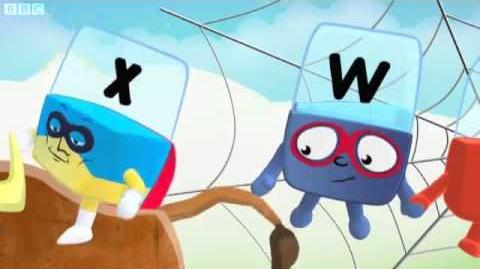 Alphablocks episodes
Episodes!

Alphablocks, Bee, Top, Why, Key, Glow, Sing, Band, Party, Cha Cha Cha, Race, Moon, Alphalympics, Sail, UFO, Fox, Surprise, Bus, Space, Hide, Quiet, Map, Jaybird, Note, Zzzzz, Magic

Taps, In, Man, Din, Dog, Cat, Pen, Up, Red, Hen, Bop, Fred, Hill, Van, Zap, Dot, Lips, Web, Box, Quick, Kick, Wig, Rainbow, On, ABC, The Cat Sat on the Mat

Wish, Snowman, Win, Hat, Little Red N, Dots, Frog on a Dog, Best, Fit, Odd, Champ, Song, Thing, Train, Beep, Tightrope, Toad, Book, Hey!, Card, The End, How Now, Brown Cow?, Fair, Ants, Ink, Crash

Four, Clap, Prank, Plusman, Alphabet, Name, Sleep, Mine, Home, Blue, Outlaw, Birthday Girl, Cowboy

Episodes!
Community content is available under
CC-BY-SA
unless otherwise noted.