Okay, guys, this is going to be HUGE. This will be the biggest mission in all of Numberland.
THE MISSION
In case you didn't know, we'll have to bring Alphaland to here. Since the original Alphaland was taken over by those Mixels fanboys and spam-inators, we'll have to do this.
What we'll need to do is...
Re-look at all the IMPORTANT pages in Alphaland and bring them here. (By that, I mean copy the source code and paste it onto a newly-made page.)
MAKE MORE NAVBOXES. (A character navbox and an episode navbox.)
Clean up the bad grammar.
Teach algebra. Big Tum's already done that.
Okay, that is all. I have opened up a portal to Alphaland on my user page. Good luck and STOP THE VANDALS.
WE WILL MAKE LEARNING-BLOCKS GREAT AGAIN!
Alphablocks characters
CHARACTERS!
Main Characters
A, B, C, D, E, F, G, H, I, J, K, L, M, N, O, P, Q, R, S, T, U, V, W, X, Y, Z
Other
---
| | |
| --- | --- |
| Series 1 | Alphablocks, Bee, Top, Why, Key, Glow, Sing, Band, Party, Cha Cha Cha, Race, Moon, Alphalympics, Sail, UFO, Fox, Surprise, Bus, Space, Hide, Quiet, Map, Jaybird, Note, Zzzzz, Magic |
| Series 2 | Taps, In, Man, Din, Dog, Cat, Pen, Up, Red, Hen, Bop, Fred, Hill, Van, Zap, Dot, Lips, Web, Box, Quick, Kick, Wig, Rainbow, On, ABC, The Cat Sat on the Mat |
| Series 3 | Wish, Snowman, Win, Hat, Little Red N, Dots, Frog on a Dog, Best, Fit, Odd, Champ, Song, Thing, Train, Beep, Tightrope, Toad, Book, Hey!, Card, The End, How Now, Brown Cow?, Fair, Ants, Ink, Crash |
| Series 4 | Four, Clap, Prank, Plusman, Alphabet, Name, Sleep, Mine, Home, Blue, Outlaw, Birthday Girl, Cowboy |
| Other Stuff | Alphablocks Theme Song, Fourth Wall Breaks |
Update #1
Apparently, "Four" is a Numberblocks character, a Numberblocks episode, and an Alphablocks episode. Hmm.
Update #2
Update #3
We're almost done with Season 4. Also, 200 PAGES! YAY!
Update #4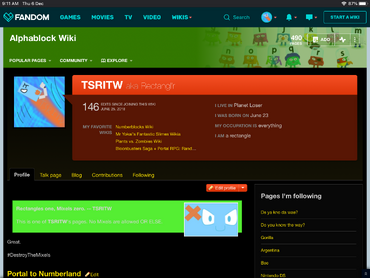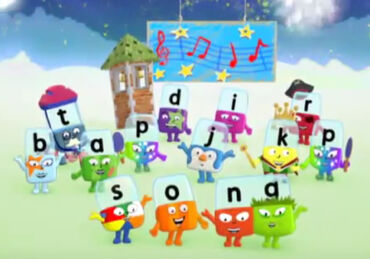 Update #5

Update #6
I added a birthday template because why not.
Update #7
QUICK! THE ALPHABLOCKS WIKI MAY NOT EXIST ANYMORE!
Update #8
Eight is great, because WE COMPLETED SERIES 1!!!!
Update #9
WE DID IT!
Now we gotta deal with the gibberish...