And, err yeah, Jessie is not the smelly boi. Blitzy and Koolgal are really horrible shippings. Credit to Saranctha for icon.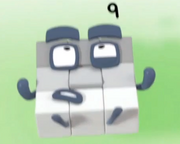 WHAT IS UP!
It's MEESTER YURKAH! The CONTENT MODERATOR of L.U.R.Nin' Blocks wiki. Uhh... that's all... Bowser... CAN YOU GET KNOCKED AWAY??????????????????????????????????????????????????????? I WANNA SHOW MY STRENGTH TO ALL THOSE PEOPLE! I was named after Game and Watch and Yokai Watch... okay? Click this.
My Numberblocks
Eleven: An exerciser, first one to learn decimals.
Twelve: An ice skater. Likes midnight. Has a telescope.
Thirteen: Unlucky, frequently subtracts and rearranges in a disorderly fashion.
Hated Stuff
TSRITW making my templates look like train wreck. For example, supposed-to-be top-secrets get wrecked by TSRITW even when I don't ask him to train wreck it. In one occasion, he shipwrecked the Ultra Fan templates!

I no longer do "YokaiDelete" templates now. It turns out, when I make them, it might get TRAINWRECKED. CuteYoshi101 actually joins in in the trainwrecking! And they treat my serious comment about them making my template look bad as a JOKE, and edit this. You know what, I'm not going to make THESE kinds of templates anymore. Unless it's important. Or if it's not gonna be trainwrecked.

Duplicates - Seriously... they're just lazy.
This wiki is BLOATED (okay maybe not bloated) with non-Numberblocks templates. But this is because TSRITW wants this wiki to be unique, so... what if kids see this again?
Ultra Fan Templates - I used to love them cause they were funnier but soon it get trainwrecked my TSRITW. "Lookin' good", less like "lookin' poor and unfunny".

But to be honest my old version was kind of unfunny but at least it's sort of a nod to "fanbase accidental injuries".

People getting mad and overreacting like whiny people at me just for opinions. This is the most notable case with Jaydob where instead of talking to me privately about my opinion, he literally told this to other people on Discord.
BRAWK, YOU SUMMONED THESE!
NUMBERBLOCK LIKES!
Community content is available under
CC-BY-SA
unless otherwise noted.