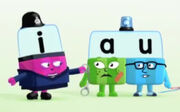 "I ARREST User:LolwutburgerAlt THREE TIMES FOR BREAKING THREE LAWS IN A ROW!"
This user will get THREE TIMES the number of strikes. Yes, that means ONE strike and you're out.
Reason: ?
To dispel the effect, you must ??.
"User:LolwutburgerAlt, try again." — One and Two
This user got a second strike. They are also probably banned from chat for 2 hours.
One more strike, and they will be blocked.

Reason

:

?


This page was last edited on September 11, 2019 at 3:08 AM.

"I'm gonna dou... It's me, silly!"
You're still safe for now. the guy who posted this got his/her strikes doubled.
Community content is available under
CC-BY-SA
unless otherwise noted.