UFO is the fifteenth Series 1 episode of Alphablocks.
Story
The vowels look at their constellations that look like their letters. They glow as one of them say a vowel name.
I A E O A U I
F and R join the vowels.
A E I U F O
U-F-O, UFO!
A UFO appears.
A E I U O
The UFO repeats what they say. BUZZ!
O U I E A
The UFO repeats what they say. BUZZ!
A E I O U
The UFO repeats what they say. Correct! The UFO lifts them up high.
f-ar, FAR!
The UFO rises away from them.
oar, OAR!
The UFO comes down with an oar.
ear, EAR!
The UFO grows an ear.
f-ur, FUR!
The UFO grows fur.
f-air, FAIR!
The UFO becomes a merry-go-round.
FOUR!
A number 4 appears. The UFO opens up and 5 number aliens are inside. The 4 belongs to one of the aliens. Then the UFO leaves.
Characters (in their order of appearance)
Digraphs / Trigraphs
Words
UFO
Far
Oar
Ear
Fur
Fair
Four
Notes & trivia
F, O, U, and R didn't sound out FOUR. This is the same as ONE in Note.

Possibly because the word "four" doesn't follow the sound rules ("our" normally sounds like "OW-er").

This is the only episode to feature the digraph OAR.
This is the first episode to feature the digraphs AR and UR, and the trigraphs OAR, EAR, and AIR. EAR and AIR reappear in the episode, Fair.
The numbers on the aliens are used again in Fred.
E only says his sound and his name as his solo line.
The only consonants were F and R.
B, C, D, G, H, J, K, L, M, N, P, Q, S, T, V, W, X, Y, and Z are absent in this episode.
Total Words: 7.
This is the only episode where the 5 aliens are in.
R uses her spyglass in this episode.
F joined the group of vowels in this episode, although she is not supposed to be a vowel.
This is the first episode where an Alphablock (or Alphablocks) change their Letterling from lowercase to uppercase.
The UFO goes away at the end of the episode.
This is the only episode with an all-caps word: UFO.
The Number Aliens were called "Numberblocks" by fans; but only the name, not the design, was reused for actual characters on the later show.
This is the first Alphablocks episode with numbers.
Quotes
Gallery
Video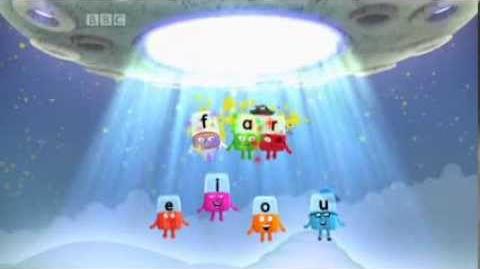 ---
| | |
| --- | --- |
| Series 1 | Alphablocks, Bee, Top, Why, Key, Glow, Sing, Band, Party, Cha Cha Cha, Race, Moon, Alphalympics, Sail, UFO, Fox, Surprise, Bus, Space, Hide, Quiet, Map, Jaybird, Note, Zzzzz, Magic |
| Series 2 | Taps, In, Man, Din, Dog, Cat, Pen, Up, Red, Hen, Bop, Fred, Hill, Van, Zap, Dot, Lips, Web, Box, Quick, Kick, Wig, Rainbow, On, ABC, The Cat Sat on the Mat |
| Series 3 | Wish, Snowman, Win, Hat, Little Red N, Dots, Frog on a Dog, Best, Fit, Odd, Champ, Song, Thing, Train, Beep, Tightrope, Toad, Book, Hey!, Card, The End, How Now Brown Cow, Fair, Ants, Ink, Crash! |
| Series 4 | Four, Clap, Prank, Plusman, Alphabet, Name, Sleep, Mine, Home, Blue, Outlaw, Birthday Girl, Cowboy |
| Specials | Band Together, The Wonderful Wizard of Az, Boo!, Letters to Santa, Making Friends, Crossover, The Case of the Missing Blocks, The Blocks v Blocks Games |
| Other Stuff | Alphablocks Theme Song, Fourth Wall Breaks |