Plot
Let's hear a bedtime story about the Numberblocks Eleven to Fifteen.
Synopsis
All of the Numberblocks are asleep in their beds, except for Eleven through Fifteen, with Fifteen telling a bedtime story.
Chapter 11: Back of the Net
Eleven is playing a football game against 11 Ones, with Two and Three's commentary. Eleven hits the ball with her One-block 11 times and scores a goal.
Chapter 12: Rectangle Rush
Twelve goes to a game called Rectangle Rush. Twelve arranges herself into different rectangles: 3x4, 4x3, 2x6, 6x2, and 12x1.
Chapter 13: Oops, Unlucky Me!
Thirteen is in a film made by One, but when his name is said, he accidentally splits into Ten and Three. One tries many times to film Thirteen.
Chapter 14: Downhill All the Way, Dude!
Fourteen is skateboarding on several ramps, but on a double ramp, he splits into two Sevens, then makes it to the goal.
Chapter 15: Night Mission!
Fifteen appears as an agent known as the Super Special Secret Step Squad. The step squad repeats the steps:
Step one: Tidy!
Step two: Drink Cocoa!
Step three: Brush our teeth!
Step four: Get into the bed!
Step five: Read a nice bedtime story!
After the story is finished, Fifteen says "Mission accomplished! Hush, hush!", concluding the story as Eleven through Fourteen snore.
Characters
Trivia
This episode is the third of the bedtime story episodes, after Once Upon A Time (1-5) and Now We Are Six To Ten (6-10). Alphablocks F, U, and N make a cameo in Night Mission as lettered toy blocks. Viewers familiar with Alphablocks would recognize the stealth word "spelled" by the characters.
Eight and Nine appear only as sleeping characters at the beginning, and play no other role in this episode.
This is the first time 1-15 are all here and the first time 11-15 meet as a group. (11 and 12 have met 13 in Thirteen.Also,12 have met 14 in Fourteen)
This is the first time 2, 4-9 and 14-15 meet 13.
This marks the fourth appearance of the Numberblobs, who return in Chapter 12: Rectangle Rush!
In Chapter 13: Oops, Unlucky Me!, after Thirteen falls apart the first time, the BBC Test Card F is referenced, where Ten plays as Carole and Three as Bubbles the Clown.
In Chapter 11: Back of the Net, the 11 Ones' team name (Ones United) refers to the football/soccer team Manchester United.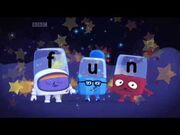 ---
Series 1
High Five!
One, Another One, Two, Three, One, Two, Three!, Four, Five, Three Little Pigs, Off We Go, How to Count, Stampolines, The Whole of Me, The Terrible Twos, Holes, Hide and Seek
Series 2
Ten out of Ten
Six, Seven, Eight, Nine, Ten, Just Add One, Blast Off, Counting Sheep, Double Trouble, The Three Threes, Odds and Evens, Fluffies, The Two Tree, Numberblock Castle, Ten Green Bottles
Series 3
Number Fun
Once Upon A Time, Blockzilla, The Numberblocks Express, Fruit Salad, Zero, Now We Are Six to Ten, Numberblobs, Building Blocks, Peekaboo!, Hiccups, What's the Difference?, Numberblock Rally, Five and Friends, Octoblock to the Rescue!, Ten Again
Fifteen and Friends
Flatland, Pattern Palace, The Legend of Big Tum, Mirror, Mirror, The Wrong Number, Eleven, Twelve, The Way of the Rectangle, Ride the Rays, Block Star, Thirteen, Fourteen, Fifteen, Tween Scenes, Step Squads
Series 4
Season 5
Fifteen's Minute of Fame, On Your Head, Ten's Place, Balancing Bridge, Sixteen, Square Club, Seventeen, Eighteen, Loop the Loop, Nineteen, Twenty, Tall Stories, Flights of Fancy, I Can Count to Twenty, Heist
Season 6
Sign of the Times, Fun Times Fair, The Lair of Shares, Terrible Twosday, Divide and Drive, Twenty-One and On, We're Going on a Square Hunt, Thirty's Big Top, Land of the Giants, Fifty, Sixty's High Score, The Big One, One Hundred, One Thousand and One, More To Explore
Series 5
Season 7
Your Turn, Now You See Us, Ten's Top Ten, What's My Number?, Fun Times One Times Table, The Many Friends of Twenty, Ten Vaulting, Twoland, Two Times Shoe Shop, Odd Side Story, How Rectangly!, Rectangle Racers, The Team Factor, Hidden Talents, Making Patterns
Season 8
Now in 3D, Club Picnic, Too Many Threes, Circus of Threes, Figure It Out, Snow Day Doubles, Steps Versus Squares, Puzzle Square, Four on the Floor, Sky High Fives, One Giant Step Squad, Square on the Moon, Heroes With Zeroes, What If?, 100 Ways to Leave the Planet
Specials
The Treasure of Hexagon Island, Double Back, About Time, The Twelve Days of Christmas, Making Friends, Crossover, The Case of the Missing Blocks, The Blocks v Blocks Games
Other Stuff
Numberblocks Theme Song, Fourth Wall Breaks