Too Many Threes is the eighteenth episode of Season 5 of Numberblocks. This is the 108th episode in the series overall.
Synopsis
Three's attempts to hide in the Clubhouse get increasingly tricky in a slapstick comedy of Threes!
Plot
Fifteen, while guarding the Clubhouse door, meets up with Three. Almost accidentally revealing whatever she is hiding, Fifteen immediately tells Three to go bird-watching first before entering the meeting. This works, but regardless, Three ends up entering the Clubhouse in order to get her trinoculars. Immediately upon entering, she notices that it's set up like a party; having entered when not told to, Three decides to clone herself with a Magic Mirror and disguise herself as Six.
As the non-clone Three attempts to get out, the clone Three is distracted by a party hat; unfortunately, Six has came, and immediately the clone Three clones another Three as they all become Nine to hide from Six. However, they still can't exit, because Nine is outside, so they hastily disguise as Twelve to hide from him.
Three has soon came up with a plan; disguise as Fifteen and walk out. Unfortunately, they accidentally create five more in the process. As they attempt to get out as Fifteen, the other Threes create another Fifteen, causing the plan to fail as Fifteen is bringing everyone inside. Four of the Threes hide under the table, as the six become Eighteen. When instructed to hide, Eighteen hides behind the table to avoid being noticed.
The real Eighteen soon enters, as Three disguises as Twenty-One in an attempt to cover it up. However, the real Twenty-One arrives, as she soon disguises as Twenty-Four, then Twenty-Seven when the real Twenty-Four arrives. Thirty soon enters, concerned about Three's whereabouts. Three soon reveals herself, briefly surprising herself. She soon realizes the surprise party was for her, the founder of the Three Club. Just as Thirty mentions Three being the only one, the other Threes soon reveal themselves, much to all the other Numberblocks' surprise.
Learning Objective
This episode's learning objective is to learn which numbers are multiples of three.
Characters
Trivia
This is the first appearance of Thirty in Season 8.
This episode once had the Circus of Threes thumbnail.
This is the second episode to feature a treehouse, and the first to feature the "Threehouse".
Six's line "Must dash, be back in a flash" is commonly misheard as "Moustache, be back in a flash", leaving several viewers confused.

This is possibly due to her accent.

There is an error: when 6-30 say "Ten Threes?!", Twenty-Seven doesn't have her mask.
This episode is the 2nd episode to be about a single club. The 1st is Square Club
Some of the shoes were used in Two times Shoe Shop.
Video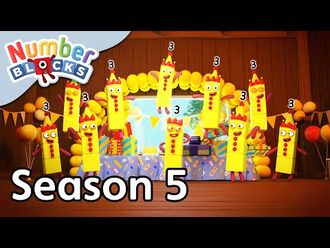 ---
Series 1
High Five!
One, Another One, Two, Three, One, Two, Three!, Four, Five, Three Little Pigs, Off We Go, How to Count, Stampolines, The Whole of Me, The Terrible Twos, Holes, Hide and Seek
Series 2
Ten out of Ten
Six, Seven, Eight, Nine, Ten, Just Add One, Blast Off, Counting Sheep, Double Trouble, The Three Threes, Odds and Evens, Fluffies, The Two Tree, Numberblock Castle, Ten Green Bottles
Series 3
Number Fun
Once Upon A Time, Blockzilla, The Numberblocks Express, Fruit Salad, Zero, Now We Are Six To Ten, Numberblobs, Building Blocks, Peekaboo!, Hiccups, What's the Difference?, Numberblock Rally, Five and Friends, Octoblock to the Rescue!, Ten Again
Fifteen and Friends
Flatland, Pattern Palace, The Legend of Big Tum, Mirror, Mirror, The Wrong Number, Eleven, Twelve, The Way of the Rectangle, Ride the Rays, Block Star, Thirteen, Fourteen, Fifteen, Tween Scenes, Step Squads
Series 4
Season 5
Fifteen's Minute of Fame, On Your Head, Ten's Place, Balancing Bridge, Sixteen, Square Club, Seventeen, Eighteen, Loop the Loop, Nineteen, Twenty, Tall Stories, Flights of Fancy, I Can Count to Twenty, Heist
Season 6
Sign of the Times, Fun Times Fair, The Lair of Shares, Terrible Twosday, Divide and Drive, Twenty-One and On, We're Going on a Square Hunt, Thirty's Big Top, Land of the Giants, Fifty, Sixty's High Score, The Big One, One Hundred, One Thousand and One, More To Explore
Series 5
Season 7
Your Turn, Now You See Us, Ten's Top Ten, What's My Number?, Fun Times One Times Table, The Many Friends of Twenty, Ten Vaulting, Twoland, Two Times Shoe Shop, Odd Side Story, How Rectangly!, Rectangle Racers, The Team Factor, Hidden Talents, Making Patterns
Season 8
Now in 3D, Club Picnic, Too Many Threes, Circus of Threes, Figure It Out, Snow Day Doubles, Steps Versus Squares, Puzzle Square, Four on the Floor, Sky High Fives, One Giant Step Squad, Square on the Moon, Heroes With Zeroes, What If?, 100 Ways to Leave the Planet
Specials
The Treasure of Hexagon Island, Double Back, About Time
Other Stuff
Numberblocks Theme Song, Fourth Wall Breaks