| | | |
| --- | --- | --- |
| Episode | Gallery | Transcript |
Tightrope is the sixteenth episode of Season 3 of Alphablocks. This is the 68th episode in the series overall.
Synopsis
A simple skipping game turns into a night at the circus as I, G and H find themselves high up on a tightrope, with thrills and spills as they try to find the right way to get back down.
Plot
R swings on a rope and leaves off, and left's it behind. G and H see the rope. I sees it also and jumps the rope. G wants to go next, but I takes that and all three stick together. They say I's name, which confuses I. I thinks only she can say her name. T comes by and then splits in two.
t-igh-t, TIGHT!
The rope becomes a tightrope. N and E come and wonder what they're doing up there. The first T falls down and N and E grab him.
n-e-t, NET!
They bounce on a net below them. The second T then falls.
t-e-n-t, TENT!
The setting is now a circus tent. I, G, and H want to get down.
h-igh, HIGH!
The rope comes high above L, S, N, R, T, and M, who have come to rescue them.
What will they do?
_IGHT
LIGHT - A light shines on L, IGH, and T causing them to fall down, and lightly float back up on the rope.
MIGHT - M says he might has a marvelous idea. But he can't think of one.
NIGHT - It gets dark and T wonders who turns off the lights.
SIGHT - S wears funny glasses.
TIGHT - The rope tosses T, IGH, and T.
RIGHT (star word) - R, IGH, and T follow a green arrow pointing right and come down the ladder. E calls for a round of applause, and then a grand finale.
f-r-igh-t, FRIGHT!
E's loudhailer floats behind them, shouting "BOO!" and frightening them. They all laugh afterwards.
Characters (in their order of appearance)
Trigraphs
Words
Tight
Net
Tent
High
Light
Night
Might (game only)
Sight (game only)
Right
Fright
Trivia 
Total words: 8 (TV version), 10 (game version).
A, B, C, D, J, K, O, P, Q, U, V, W, X, Y, and Z are absent in this episode.
F only says her sound in this episode. 
M and S only say their sound in the TV version. 
Videos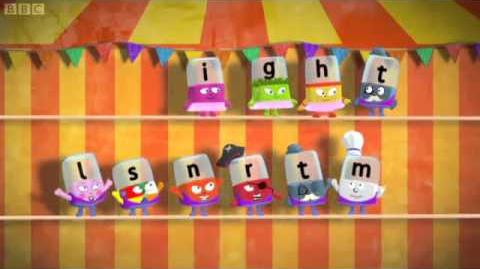 ---
| | |
| --- | --- |
| Series 1 | Alphablocks, Bee, Top, Why, Key, Glow, Sing, Band, Party, Cha Cha Cha, Race, Moon, Alphalympics, Sail, UFO, Fox, Surprise, Bus, Space, Hide, Quiet, Map, Jaybird, Note, Zzzzz, Magic |
| Series 2 | Taps, In, Man, Din, Dog, Cat, Pen, Up, Red, Hen, Bop, Fred, Hill, Van, Zap, Dot, Lips, Web, Box, Quick, Kick, Wig, Rainbow, On, ABC, The Cat Sat on the Mat |
| Series 3 | Wish, Snowman, Win, Hat, Little Red N, Dots, Frog on a Dog, Best, Fit, Odd, Champ, Song, Thing, Train, Beep, Tightrope, Toad, Book, Hey!, Card, The End, How Now Brown Cow, Fair, Ants, Ink, Crash! |
| Series 4 | Four, Clap, Prank, Plusman, Alphabet, Name, Sleep, Mine, Home, Blue, Outlaw, Birthday Girl, Cowboy |
| Specials | Band Together, The Wonderful Wizard of Az, Boo!, Letters to Santa, Making Friends, Crossover, The Case of the Missing Blocks, The Blocks v Blocks Games |
| Other Stuff | Alphablocks Theme Song, Fourth Wall Breaks |