Thirteen is an episode of Numberblocks.
Plot
Unlucky Thirteen falls apart whenever anyone mentions his name.
Synopsis
Ten is eating a banana and a glass of water, when Three appears from behind a tree and surprises her, dropping her snack. Three wants to show Ten a new trick, but whenever she tries, one of her ball buttons fall off. She tries again, but slips on the ball. Ten backs away, but slips on a banana skin. They both crash into each other...
10 + 3 = 13
...and they become Thirteen! After he counts his 13 blocks, he slips on a banana skin, separating into Ten and Three. They add up to Thirteen again. Thirteen then slips on an empty glass and is separated again. Ten and Three add up again. Thirteen then sees a chicken falling on him. He thinks he's a little unlucky and sings about it.
While he sings, many unfortunate events happen, and at the end, a giant piano falls on him as a big finish.
Lyrics
/ Trivia
Song: Unlucky Number Thirteen
One, Twelve (Both One and Twelve are on the ladder when Thirteen is walking under the ladder) , and Eleven (offscreen,but you can see her football) made a cameo in this episode.
0, 2, 4, 5, 6, 7, 8, and 9 (or 2, 4-9) are absent in this episode.
List of unlucky things that happened:

Three scaring Ten, making her drop her banana peel and glass
Three dropping her balls
Three stepping on one of her balls and Ten slipping on the banana peel, causing them to make Thirteen
Thirteen slipping on the same banana peel, causing him to split into Ten and Three
Thirteen stepping on Ten's glass (from now on these events cause him to split into Ten and Three, except the ladder)
A chicken dropping on Thirteen
Thirteen crashing into a lamppost
Thirteen stepping into a puddle and slipping
The "don't say 13" card drops onto Thirteen
Thirteen stepping on the same card
Thirteen walking under a ladder

List of unlucky things that ALMOST happened:

Thirteen getting hit by Eleven's football
Thirteen tripping on a rock
Thirteen falling into a hole
Thirteen splitting into Ten and Three, but he says that he's thirsty
Same thing, but he says that it's Thursday
Thirteen getting poked by two birds
Thirteen getting hit by a falling pot
Thirteen tripping on a rug
Thirteen getting hit by a boxing glove, which instead gives him a drink and a calendar showing Thursday
Thirteen getting crushed by an oversized piano

According to the calendar, it's Thursday the 13th, which is REALLY CLOSE to Friday the 13th.

It also indicates that this episode might take place on June 2019, where the 13th day of that month lands on a Thursday.

Other Thursday 13th's before June 2019 include:

August 2015
October 2016
April 2017
July 2017
September 2018
December 2018

It is more likely it is June 2019 because this episode premiered in 2019.

Three is the smallest number to speak in this episode.
Gallery
Videos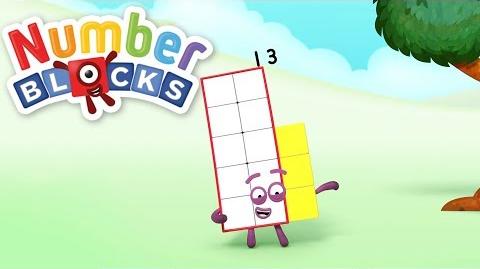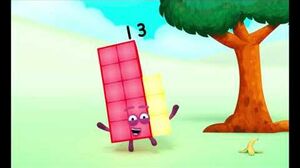 Numberblocks episodes
Here are all the Numberblocks episodes.

One, Another One, Two, Three, One, Two, Three!, Four, Five, Three Little Pigs, Off We Go, How to Count, Stampolines, The Whole of Me, The Terrible Twos, Holes, Hide and Seek

Six, Seven, Eight, Nine, Ten, Just Add One, Blast Off, Counting Sheep, Double Trouble, The Three Threes, Odds and Evens, Fluffies, The Two Tree, Numberblock Castle, Ten Green Bottles

Once Upon A Time, Blockzilla, The Numberblocks Express, Fruit Salad, Zero, Now We Are Six To Ten, Numberblobs, Building Blocks, Peekaboo!, Hiccups, What's the Difference?, Numberblock Rally, Five and Friends, Octoblock to the Rescue!, Ten Again

Flatland, Pattern Palace, The Legend of Big Tum, Mirror, Mirror, The Wrong Number, Eleven, Twelve, The Way of the Rectangle, Ride the Rays, Block Star, Thirteen, Fourteen, Fifteen, Tween Scenes, Step Squads

Fifteen's Minute of Fame, On Your Head, Ten's Place, Balancing Bridge, Sixteen, Square Club, Seventeen, Eighteen, Loop the Loop, Nineteen, Twenty, Tall Stories, Flights of Fancy, I Can Count to Twenty, Heist

Sign of the Times, Fun Times Fair, The Lair of Shares, Terrible Twosday, Divide and Drive, Twenty-One and On, We're Going on a Square Hunt, Thirty's Big Top, Land of the Giants, Fifty, Sixty's High Score, The Big One, One Hundred, One Thousand and One, More To Explore




Upcoming (confirmed)

Other

EPISODES!
Community content is available under
CC-BY-SA
unless otherwise noted.