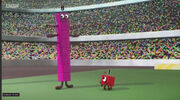 Ten vaulting is a sport in Numberblocks where the Numberblocks find their "Ten-Friend". the winner of ten vaulting is Eight. The game is meant to demonstrate adding single-digit numbers with regrouping.
The game is played with a spring board, a ten-block tall Ten Pole, a landing pad, and a traffic light with a red light on top and a green light on the bottom. The game is meant to be played by two Numberblocks who are both less than Ten.
To play, participating Numberblocks must know their Ten Friend: the Numberblock who when added to them makes Ten.
One Numberblock waits at the springboard while one waits next to the Ten Pole while the light is red. The process works as follows:
Both Numberlocks prepare by "standing tall", or shifting to their tall prime position.
The light turns green and the vaulting Numberblock runs onto the springboard, jumping off of it to land on the other Numberblock.
The Numberblock who vaulted splits into the other Numberblock's Ten Friend with their lower blocks and whatever is left with their top blocks.
The lower Numberblock and their Ten Friend add to make a Ten as the remaining block are vaulted over the Ten Pole and land next to the Ten, either from sliding down or landing on the landing pad and colliding with the Ten.
The Ten and the remaining blocks add together, ending the round.
The game has free rounds, where any two qualifying Numberblocks can participate, and target rounds, where a specific sum must be accurately achieved by picking partners carefully.
Locations in the Learningblocks series
Locations!

Numberland, The Moon, Numberblock Castle, Numberblocks Express Station, Three's Fruit Factory, Alien Planet, Peekaboo Rooms, Wall of Measurements, Rally Race Track, Terrible Twos' Lair, Flatland, Pattern Palace, Blocky Mountain, Rectangle Retreat, Ray Canyon, Block Star, Skate Park, Fifteen's Talent Show, Ten's Place, Numberblocks' Planets, Balancing Bridge, Square Club, Loopers, Museum of Numbers, Square Temple, What's My Number?, Legendary One Times Table Forest, Ten Vaulting, Twoland, The Shoe Shop, Rectangle Ray Race, Team Tag Arena, Pattern Wall, The Circus of Threes, The Dance Floor, Tower of Rock, Numerical Towers, Numberland Stadium, Two Palms Dance Floor, Fun Times Fair

Locations!