Stampolines is the Eleventh episode of the first season of Numberblocks.
Story
The episode begins with One and Two, Two shows One the shapes he can make, then he repeats. Two says it's One's turn to make an arrangement, she tries, then she fails. One and Two hear a sound. They follow the yellow block-printed arrows. They see what they think is Four, Two tests if the Four is real by playing musical statues with it. One points out that it's a painting of him, to which Two backpedals and claims he knew. One and Two enter, and Three welcomes them to her new stampoline park, Two thinks it's a trampoline park, Three corrects him. Three encourages them to look at Four, enjoying his stampoline and stamping green blocks onto a canvas. Four is making a bunch of different shapes with his blocks. Two questions if it's Four, Four says he is of course. he says whatever way round he goes, he is still Four. Three does the same as he does by stamping an arrow shape on the canvas. Four encourages them to see how five does her shapes. One questions if she did all of her shapes, she answers that she did so, she says the more blocks you have, the more shapes you can make. it is now Two's turn, he makes 2 shapes with 1 going up, and one going down. Three reacts to Two's art, saying it's not bad. One says that Two's art is still better than her's, showing them she can only make one shape. Sarcastically, she remarks that it's very exciting compared to the others, insecure about her lack of shapes. Three tells her she's forgetting something. She yells "BOO!", causing Four to split into four Ones.
Three says every big shape is made up of lots of little ones.
One sees a blank paper and stamps one block print, two one block prints, three one block prints, four one block prints, and five one block prints. Three draws the Numberblocks' faces and numbers on the prints.
To celebrate the grand opening of the park, the Numberblocks stamp themselves on a massive black canvas. They've stamped a portrait of all five Numberblocks.
Trivia
The song "1812 Overture" plays in the grand finale.
A farting noise is heard when One hits the paper on her stampoline.
Goofs
In Four's vertical form, his face is different than it usually is, being located on 2 of his blocks instead of his top block.
When Three says "BOO!", Four's legs become detached from his body.
The painting has white when there is no white pads
There is several errors on the big painting.

Two's lips are red.
Two's glasses are pink.
Two's shoes are yellow.
Two's arms are invisible.
Three's eyes are red.
Five's lips are purple.
Three's crown on the detail has a bit of red.
Video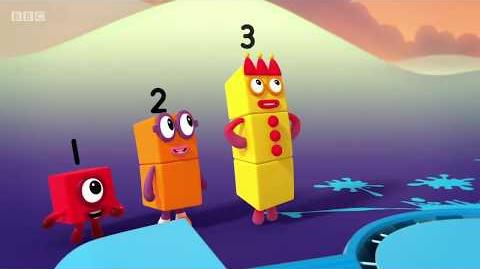 ---
Series 1
High Five!
One, Another One, Two, Three, One, Two, Three!, Four, Five, Three Little Pigs, Off We Go, How to Count, Stampolines, The Whole of Me, The Terrible Twos, Holes, Hide and Seek
Series 2
Ten out of Ten
Six, Seven, Eight, Nine, Ten, Just Add One, Blast Off, Counting Sheep, Double Trouble, The Three Threes, Odds and Evens, Fluffies, The Two Tree, Numberblock Castle, Ten Green Bottles
Series 3
Number Fun
Once Upon A Time, Blockzilla, The Numberblocks Express, Fruit Salad, Zero, Now We Are Six to Ten, Numberblobs, Building Blocks, Peekaboo!, Hiccups, What's the Difference?, Numberblock Rally, Five and Friends, Octoblock to the Rescue!, Ten Again
Fifteen and Friends
Flatland, Pattern Palace, The Legend of Big Tum, Mirror, Mirror, The Wrong Number, Eleven, Twelve, The Way of the Rectangle, Ride the Rays, Block Star, Thirteen, Fourteen, Fifteen, Tween Scenes, Step Squads
Series 4
Season 5
Fifteen's Minute of Fame, On Your Head, Ten's Place, Balancing Bridge, Sixteen, Square Club, Seventeen, Eighteen, Loop the Loop, Nineteen, Twenty, Tall Stories, Flights of Fancy, I Can Count to Twenty, Heist
Season 6
Sign of the Times, Fun Times Fair, The Lair of Shares, Terrible Twosday, Divide and Drive, Twenty-One and On, We're Going on a Square Hunt, Thirty's Big Top, Land of the Giants, Fifty, Sixty's High Score, The Big One, One Hundred, One Thousand and One, More To Explore
Series 5
Season 7
Your Turn, Now You See Us, Ten's Top Ten, What's My Number?, Fun Times One Times Table, The Many Friends of Twenty, Ten Vaulting, Twoland, Two Times Shoe Shop, Odd Side Story, How Rectangly!, Rectangle Racers, The Team Factor, Hidden Talents, Making Patterns
Season 8
Now in 3D, Club Picnic, Too Many Threes, Circus of Threes, Figure It Out, Snow Day Doubles, Steps Versus Squares, Puzzle Square, Four on the Floor, Sky High Fives, One Giant Step Squad, Square on the Moon, Heroes With Zeroes, What If?, 100 Ways to Leave the Planet
Specials
The Treasure of Hexagon Island, Double Back, About Time, The Twelve Days of Christmas, Making Friends, Crossover, The Case of the Missing Blocks, The Blocks v Blocks Games
Other Stuff
Numberblocks Theme Song, Fourth Wall Breaks