End of my tether, don't say that word!
Areas of this article contain spoilers about Sign of the Times. Please proceed with caution.

Read at your own risk.
Sign of the Times is an episode in Season 6.
Synopsis
Super-speedy Eighteen discovers a faster way to add a number together lots of times.
Characters
Plot
Eighteen and Ten are both racing together. Attempting to outspeed Ten, Eighteen soon enters his 3x6 arrangement and splits into six Threes to speed up. Soon, he accidentally crashes into a scarecrow and destroys it. Upon realizing this, when Ten arrives, he simply shrugs this off and states that it is a plus sign. He soon realizes it could mean that he can add up really fast, so he does so. Ten, impressed, asks if he can do it again.
As such, he does it again, but doing it slower by revealing he simply done 3+3+3+3+3+3. Eighteen soon tells her to do it; during which Sixteen appears, trying to find square potatoes, though wondering where the scarecrow is. Eighteen simply ignores and gets ready to see how fast Ten can add up. Splitting into five Twos, she does it slowly, which gets on Eighteen's nerves. Sixteen soon offers to try and do it faster for Eighteen; unfortunately, due to the amount of Twos, she does it slower than usual. Eighteen causes Sixteen to lose focus, which causes her to do the equation all over again; with it having gone so slowly, Eighteen creates a hurricane that knocks everything into an x shape. He soon realizes the scarecrow stand has been knocked down, and gets an idea to use it as a faster way to add up.
He picks up all the pluses and mashes them into the "times" sign. He asks how many Twos there are; eight. This makes 8 times 2. He soon tests it out; it works, and is much faster than usual- Eighteen soon prompts Ten to do the same, and he soon follows. Afterwards, he soon accidentally reveals he did break the scarecrow. Soon, crows come in, and Eighteen is forced to take the scarecrow's place.
Summary
Adding up multiple of the same number in a row (such as 2+2+2+2+2+2+2+2) is lengthy and cumbersome, and a simple loss of focus can result in having to add up from the beginning again. As such, the times symbol is made to circumvent it by just adding them all up at once. Remember what you're adding, and how many times you're adding it up.
Trivia
The name is a pun on "times", as in multiplication.
This is the second episode where 2, 3, 4, 6, 8 and 12 are present. The first being The Way of the Rectangle.
This is the first episode to involve multiplication with the times sign. Previously, the Numberblocks would've used arrays and repeated addition, but that would be way slower and make Eighteen mad.
Eighteen is the biggest number in this episode.
Gallery
Has its own page.
Video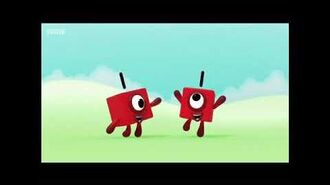 ---
Series 1
High Five!
One, Another One, Two, Three, One, Two, Three!, Four, Five, Three Little Pigs, Off We Go, How to Count, Stampolines, The Whole of Me, The Terrible Twos, Holes, Hide and Seek
Series 2
Ten out of Ten
Six, Seven, Eight, Nine, Ten, Just Add One, Blast Off, Counting Sheep, Double Trouble, The Three Threes, Odds and Evens, Fluffies, The Two Tree, Numberblock Castle, Ten Green Bottles
Series 3
Number Fun
Once Upon A Time, Blockzilla, The Numberblocks Express, Fruit Salad, Zero, Now We Are Six to Ten, Numberblobs, Building Blocks, Peekaboo!, Hiccups, What's the Difference?, Numberblock Rally, Five and Friends, Octoblock to the Rescue!, Ten Again
Fifteen and Friends
Flatland, Pattern Palace, The Legend of Big Tum, Mirror, Mirror, The Wrong Number, Eleven, Twelve, The Way of the Rectangle, Ride the Rays, Block Star, Thirteen, Fourteen, Fifteen, Tween Scenes, Step Squads
Series 4
Season 5
Fifteen's Minute of Fame, On Your Head, Ten's Place, Balancing Bridge, Sixteen, Square Club, Seventeen, Eighteen, Loop the Loop, Nineteen, Twenty, Tall Stories, Flights of Fancy, I Can Count to Twenty, Heist
Season 6
Sign of the Times, Fun Times Fair, The Lair of Shares, Terrible Twosday, Divide and Drive, Twenty-One and On, We're Going on a Square Hunt, Thirty's Big Top, Land of the Giants, Fifty, Sixty's High Score, The Big One, One Hundred, One Thousand and One, More To Explore
Series 5
Season 7
Your Turn, Now You See Us, Ten's Top Ten, What's My Number?, Fun Times One Times Table, The Many Friends of Twenty, Ten Vaulting, Twoland, Two Times Shoe Shop, Odd Side Story, How Rectangly!, Rectangle Racers, The Team Factor, Hidden Talents, Making Patterns
Season 8
Now in 3D, Club Picnic, Too Many Threes, Circus of Threes, Figure It Out, Snow Day Doubles, Steps Versus Squares, Puzzle Square, Four on the Floor, Sky High Fives, One Giant Step Squad, Square on the Moon, Heroes With Zeroes, What If?, 100 Ways to Leave the Planet
Specials
The Treasure of Hexagon Island, Double Back, About Time, The Twelve Days of Christmas, Making Friends, Crossover, The Case of the Missing Blocks, The Blocks v Blocks Games, (four unknown specials)
Other Stuff
Numberblocks Theme Song, Fourth Wall Breaks