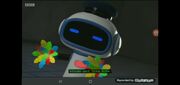 The Robot Guards are characters in Numberblocks.
They guard the Museum of Numbers in Heist.
Guarding
When they sense intruders, they will say, "INTRUDERS! INTRUDERS!" Then, they take out a pair of tickly feathers and chase the intruder, trying to tickle them. An army of Robot Guards are placed in the atrium of the Museum, to guard the Golden Infinity which is placed in the middle of the atrium.
Appearances