The Numberblocks' Planets are planets located in outer space.
Planets
Planet 7 is the seventh planet in Numberblocks.
Appearance
It's ground has the color scheme of the rainbow, and the skies are made out of rainbows aswell; stated by
Seven
in
One Giant Step Squad
.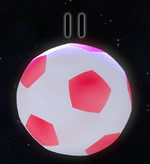 Planet 11 is the eleventh planet in Numberblocks.
Appearance
It is a planet looking similar to a soccerball but with red pentagons instead of black.
It has the number 11 floating on top of it.
Planet 12 is the 12th planet in Numberblocks.
Appearance
It is a planet which has a picture perfect orange beach.
Twelve
also meditates here.
Episode Appearances
Locations in the Learningblocks series
Locations!

Numberland, The Moon, Numberblock Castle, Numberblocks Express Station, Three's Fruit Factory, Alien Planet, Peekaboo Rooms, Wall of Measurements, Rally Race Track, Terrible Twos' Lair, Flatland, Pattern Palace, Blocky Mountain, Rectangle Retreat, Ray Canyon, Block Star, Skate Park, Fifteen's Talent Show, Ten's Place, Numberblocks' Planets, Balancing Bridge, Square Club, Loopers, Museum of Numbers, Square Temple, Numberblobs Show, Wizard Magic Spell, What's My Number?, Legendary One Times Table Forest, Ten Vaulting, Twoland, The Shoe Shop, Rectangle Ray Race, Team Tag Arena, Pattern Wall, The Circus of Threes, The Dance Floor, Tower of Rock, Numerical Towers, Numberland Stadium, Two Palms Dance Floor, Fun Times Fair

Locations!