NumberbIobs are characters in Numberblocks that are known to debut in their eponymous episode.
They are voiced by David Holt, Marcel McCalla, Emma Tate, and Teresa Gallagher.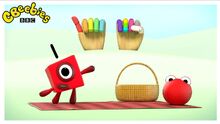 Appearance
Numberblobs are spherical creatures that come only in the Numberblocks' colours.
They resemble small round beings with no legs and hands.
Episode Appearances
Numberblobs are either used to count in Numberblocks episodes or fill the space of backgrounds. For example, their use in What's My Number? in the background illustrates this.
Gallery
Trivia
The Numberblobs are similar to the buddy blocks from Numberjacks and possibly Alphablocks.
Numberblobs Five appear in What's The Difference, where they meet Four to help him add up to Nine.
Numberblobs 3 and 6 made a triangle in "Fifteen's Minute of Fame".
Numberblobs Five are probably light blue by day and dark blue by night as shown in the episode of the same name.
Numberblobs 2 have the most appearences.
When they were first seen, Some fans thought that Zero was red and round but this would be proven incorrect
---
Numberblocks

Discovered

Zero, One, Two, Three, Four, Five, Six, Seven, Eight, Nine, Ten, Eleven, Twelve, Thirteen, Fourteen, Fifteen, Sixteen, Seventeen, Eighteen, Nineteen, Twenty, Twenty-One, Twenty-Two, Twenty-Three, Twenty-Four, Twenty-Five, Twenty-Six, Twenty-Seven, Twenty-Eight, Twenty-Nine, Thirty, Thirty-One, Thirty-Two, Thirty-Five, Thirty-Six, Forty, Forty-Five, Forty-Nine, Fifty, Fifty-Five, Sixty, Sixty-Four, Seventy, Eighty, Eighty-One, Ninety, One Hundred, Two Hundred, Three Hundred, Nine Hundred, Orders of Magnitude, Seven Thousand, Ninety Thousand

Alter-Egos

Big Bad Square, The Terrible Twos, Octoblock, The Three Threes, Octonaughty, Step Squad, The Four Fours

Undiscovered

Forty-Two, Ninety-Nine, Compound Numberblocks

Non-integers

Pi

Monsters

Flapjack Snaffler, Blockzilla, Big Tum, Twangle

Times Tables

One Times Table, Two Times Table, Three Times Table, Four Times Table, Five Times Table, Ten Times Table

Other

Fluffies, Squarey, Numberblobs, Aliens, Rainbows, Flatlanders, Alphablocks