When C and K find out they make the same sound, they decide to hold a contest. Who will win?
Story
C is cracking cracks to her sound. She meets her brother K who is kicking the ball to his sound while R counts the keep-ups. C thought K is copying her. C's cracks ruin K's keep-ups. C and K decide a contest. K does it on E and Y.
k-ey, KEY!
And a key appears.
C says her sound is the best. She does it on A, G, and E.
c-a-g-e, CAGE!
A cage falls onto everyone except E, G, and Y. As K takes the key to the locked door, there is no keyhole. So, C and K join together to make the CK sound.
How will they get out?
What can they do?
_ _CK
LICK - L, I, and CK lick an ice-cream.
ROCK - The cage is rocking.
SACK - S jumps in a sack race.
SICK - S, I, and CK turn green, and their letter tops turn red.
SOCK - A stinky sock appears.
LOCK (star word) - A keyhole appears on the door. K frees himself, C, and the other Alphablocks.
Unusual Words
LACK, RACK
Characters (in their order of appearance)
Digraphs
Words
Key
Cage
Sock
Sack (game only)
Sick (game only)
Rock
Lick (game only)
Lock (star word)
Trivia
Total words: 5 (TV version), 8 (game version)
When R counts, she starts at 80. A, E, G, I, L, O, S, and Y join in at 97.
This is the first appearance of digraph CK, who only says the sound in this episode (3 times in the TV version; 6 times in the game version).
This is the only appearance of digraph EY.
Neither E nor Y talk solo in this episode.
A and G only say their sound in this episode.
G stays saying her soft sound (sounding like "/dʒ/") in this episode.
When E, G, and Y are left behind, they spell out the Hungarian word EGY, meaning "one".
B, D, F, H, J, M, N, P, Q, T, U, V, W, X, and Z are absent in this episode.
U is the only vowel who did not appear in this episode.
The holes in the cage are actually big enough for the alphablocks to escape.
Errors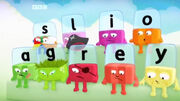 When K kicks his ball the 97th time, L and S swap their places.
R's hat is missing while the cage is rocking.
When K opens the cage, everyone but L escapes. It's unknown why.
Y in the EY digraph should be striped, because it's working as a vowel.
Quotes
K: Looks like I'm the king of the /k/'s! ...no keyhole!?
C: Copycat!
R: Rrrr! What's that rotten smell?
I: I don't feel good.
Gallery
Has its own page.
---
| | |
| --- | --- |
| Series 1 | Alphablocks, Bee, Top, Why, Key, Glow, Sing, Band, Party, Cha Cha Cha, Race, Moon, Alphalympics, Sail, UFO, Fox, Surprise, Bus, Space, Hide, Quiet, Map, Jaybird, Note, Zzzzz, Magic |
| Series 2 | Taps, In, Man, Din, Dog, Cat, Pen, Up, Red, Hen, Bop, Fred, Hill, Van, Zap, Dot, Lips, Web, Box, Quick, Kick, Wig, Rainbow, On, ABC, The Cat Sat on the Mat |
| Series 3 | Wish, Snowman, Win, Hat, Little Red N, Dots, Frog on a Dog, Best, Fit, Odd, Champ, Song, Thing, Train, Beep, Tightrope, Toad, Book, Hey!, Card, The End, How Now Brown Cow, Fair, Ants, Ink, Crash! |
| Series 4 | Four, Clap, Prank, Plusman, Alphabet, Name, Sleep, Mine, Home, Blue, Outlaw, Birthday Girl, Cowboy |
| Specials | Band Together, The Wonderful Wizard of Az, Boo!, Letters to Santa, Making Friends, Crossover, The Case of the Missing Blocks, The Blocks v Blocks Games |
| Other Stuff | Alphablocks Theme Song, Fourth Wall Breaks |