Half-Pi
or
½π
is an upcoming Numberblock made of
½π or 1.57
blocks.
Prototype Designs
Jaydob04's design: A semicircle with yellow blocks, green lips and limbs and two eyes on the sides of his head.
Arifmetix's design: The same as Jaydob04 but with one bucktooth and one eyebrow of 1.5 blocks because ½π = 1.57.
Gallery
Videos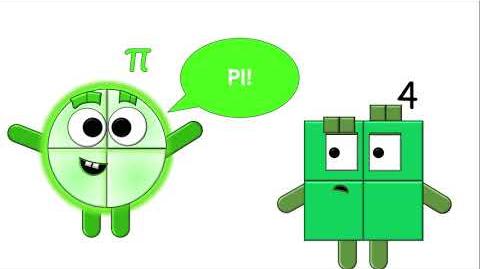 Trivia
Arifmetix's design of Half-Pi was formerly his profile icon.
Numberblocks characters
Characters!

Current Numberblocks

Zero, One, Two, Three, Four, Five, Six, Seven, Eight, Nine, Ten, Eleven, Twelve, Thirteen, Fourteen, Fifteen, Sixteen, Seventeen, Eighteen, Nineteen, Twenty, Twenty-One, Twenty-Two, Twenty-Three, Twenty-Four, Twenty-Five, Twenty-Six, Twenty-Seven, Twenty-Eight, Twenty-Nine, Thirty, Thirty-Five, Forty, Forty-Five, Fifty, Sixty, Seventy, Eighty, Ninety, Ninety-Nine, One Hundred

Big Bad Square, The Terrible Twos, Octoblock, The Three Threes, Octonaughty, Step Squad, The Four Fours

Upcoming Numberblocks

Thirty-One, Thirty-Two, Thirty-Three, Thirty-Four, Thirty-Six, Thirty-Seven, Thirty-Eight, Thirty-Nine, Forty-One, Forty-Two, Forty-Three, Forty-Four, Forty-Six

Irrational Numberblocks

Quarter-Pi, Half-Pi, Pi, Pau, Tau, Tro, Rho

Monsters

Flapjack Snaffler, Blockzilla, Big Tum

Other

Fluffies, Squarey, Numberblobs, Aliens, Rainbows, Flatlanders, Alphablocks

Characters!
Community content is available under
CC-BY-SA
unless otherwise noted.