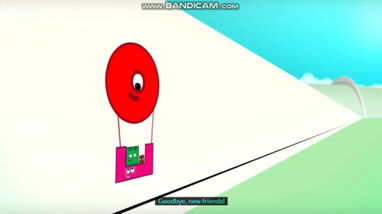 Flatland is a place in Numberblocks. It first appeared in the episode with the same name.
Inhabitants
One
Two
Three
Equilateral Triangle
Scalene Triangle
Right Triangle
Isosceles Triangle
Acute Triangle
Obtuse Triangle
Four
Trapezium
Rectangle
Rhombus
Parallelogram
Kite
Dart
Square
Five
Six
Seven
Eight
Octagon
Eight-Sided Basket
Nine
Ten
Gallery
Locations in the Learningblocks series
Locations!

Alphaland, The Moon

Numberland, The Moon, Numberblock Castle, Numberblocks Express Stations, Three's Fruit Factory, Alien Planet, Peekaboo Rooms, Wall of Measurements, Rally Race Track, Two Palms Dance Floor, Terrible Twos' Lair, Flatland, Pattern Palace, Blocky Mountain, Numerical City, Twelve's Dojo, Ray Canyon, Block Star, Skate Park, Fifteen's Minute of Fame, Ten's Place, Balancing Bridge, Square Club, Loopers, Numberblocks' Planets, Museum of Numbers

Locations!
Community content is available under
CC-BY-SA
unless otherwise noted.