Figure It Out is the fifth episode of Season 8 of Numberblocks. This is the 110th episode in the series overall.
Synopsis
Twenty-One reveals her six-step plan for figuring out Numberblocks - and takes some friends along for the ride.
Plot
Twenty-One helps Thirty-One and Thirty-Two figure themselves out, leading them to places before, such as Ten's Place and the Rectangle Retreat. At the end, Thirty-One becomes a calendar fan, and Thirty-Two becomes a doubler; both have figured themselves out.
Summary
Characters
Continuity References
Step 1:
They are in Ten's Place or maybe this one is referencing the beginning of How Rectangly?
Step 2:
31 and 32 are at the Rectangle Retreat with the scrolls from How Rectangly!.
Step 3:
31 and 32 enter MI-15 from Hidden Talents. The machine that counts the bonds is here and the room where 26 figures himself out is here too.
Step 4:
31 and 32 are on the Pattern Wall which is referencing Making Patterns. 31 and 32 make shapes, like zigzags.
Step 5:
31 and 32 join clubs. Makes a reference to Club Picnic, where Twenty-Nine was figured-out.
Step 6:
This entire walking sequence is referencing More To Explore when 21 walks past all of the objects.
A bird fly by and sing to the tune of the song, probably referencing Holes.
A camera can be seen as well as a rally cart. The cart references Numberblock Rally. The camera looks is the same camera from Hiccups.
The Numberblocks Express is riding by.
A ten ball from Thirty's Big Top is bouncing by and 11's football shirt is flying as well.
A clock, skateboard, and a paint palette pass by. The clock is from More to Explore and the skateboard and paint palette are referencing 14 and 17, respectively.
A bus stop and bus fly by which are referencing Twenty-One and On.
A big thirty ball flies by, which references Thirty.
A calendar with a month that contains thirty-one days appears besides 31, and a doubler paper appears besides 32.
Trivia
This is Seventeen's first appearance in Season 8.
This is the last time Twenty-One actually helps compound Numberblocks figure themselves out. After this episode, compounds figure themselves out without 21's help by going through the six-step plan themselves offscreen.
This is the first appearance of Thirty-One and Thirty-Two as figured-out Numberblocks.
This is the debut of 40 in the 2020s decade.

This episode also has mentioned the numbers 33 through 40. 40 appeared as a complete drawing, as he debuted in the same episode as Thirty, but 33-39 appeared only as Numberlings, as they weren't figured-out by the time of this episode.

This is the third episode where Twenty-One sings, the others being More To Explore and Club Picnic.
During 31's part while 21 sings the last lyrics, one can see him with 28, 29, and 30. Those numbers match the total count of days in shorter months.
This is the third time a calendar has been shown in Numberblocks. (Seven and Thirteen were the first and second, but they showed only the days of the week; this is the first episode showing a full-month calendar page.)
Many people thought that Twenty-Nine would be figured out here; instead, he was figured out in Club Picnic.
In the last step, the objects flying by correspond to some numbers in order up to 32: A single bird for One, a camera thaht doesn't represent anyone, a 4-blocked cart for Four, the Numberblocks Express for Five, a 10 ball for Ten, a football shirt for Eleven, a clock for Twelve, a skateboard for Fourteen, a paint palette for Seventeen, a bus stop and bus for Twenty and Twenty-One, a 30 ball for Thirty, and finally, a calendar for Thirty-One and the double paper for Thirty-Two.
21 is also seen with rays in another season 8 episode, Circus of Threes.
They have unusually thick ten borders.
Errors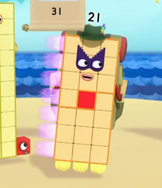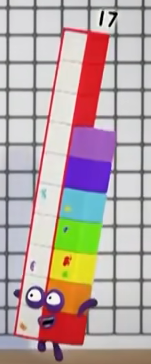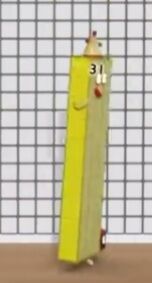 In one scene, Twenty-One flies with rectangle rays, however, the seven rays are pure violet, and not rainbow as seen with Fourteen in Loop the Loop.
At the ending scene, the ten-borders are thicker than normal.
In "Step 4: Play with Patterns" Seventeen's mouth clips into his ten-block's border.

In the same step, Thirty-One's numberling clips through their body.
Videos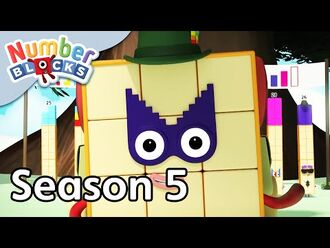 ---
Series 1
High Five!
One, Another One, Two, Three, One, Two, Three!, Four, Five, Three Little Pigs, Off We Go, How to Count, Stampolines, The Whole of Me, The Terrible Twos, Holes, Hide and Seek
Series 2
Ten out of Ten
Six, Seven, Eight, Nine, Ten, Just Add One, Blast Off, Counting Sheep, Double Trouble, The Three Threes, Odds and Evens, Fluffies, The Two Tree, Numberblock Castle, Ten Green Bottles
Series 3
Number Fun
Once Upon A Time, Blockzilla, The Numberblocks Express, Fruit Salad, Zero, Now We Are Six to Ten, Numberblobs, Building Blocks, Peekaboo!, Hiccups, What's the Difference?, Numberblock Rally, Five and Friends, Octoblock to the Rescue!, Ten Again
Fifteen and Friends
Flatland, Pattern Palace, The Legend of Big Tum, Mirror, Mirror, The Wrong Number, Eleven, Twelve, The Way of the Rectangle, Ride the Rays, Block Star, Thirteen, Fourteen, Fifteen, Tween Scenes, Step Squads
Series 4
Season 5
Fifteen's Minute of Fame, On Your Head, Ten's Place, Balancing Bridge, Sixteen, Square Club, Seventeen, Eighteen, Loop the Loop, Nineteen, Twenty, Tall Stories, Flights of Fancy, I Can Count to Twenty, Heist
Season 6
Sign of the Times, Fun Times Fair, The Lair of Shares, Terrible Twosday, Divide and Drive, Twenty-One and On, We're Going on a Square Hunt, Thirty's Big Top, Land of the Giants, Fifty, Sixty's High Score, The Big One, One Hundred, One Thousand and One, More To Explore
Series 5
Season 7
Your Turn, Now You See Us, Ten's Top Ten, What's My Number?, Fun Times One Times Table, The Many Friends of Twenty, Ten Vaulting, Twoland, Two Times Shoe Shop, Odd Side Story, How Rectangly!, Rectangle Racers, The Team Factor, Hidden Talents, Making Patterns
Season 8
Now in 3D, Club Picnic, Too Many Threes, Circus of Threes, Figure It Out, Snow Day Doubles, Steps Versus Squares, Puzzle Square, Four on the Floor, Sky High Fives, One Giant Step Squad, Square on the Moon, Heroes With Zeroes, What If?, 100 Ways to Leave the Planet
Specials
The Treasure of Hexagon Island, Double Back, About Time, The Twelve Days of Christmas, Making Friends, Crossover, The Case of the Missing Blocks, The Blocks v Blocks Games, (four unknown specials)
Other Stuff
Numberblocks Theme Song, Fourth Wall Breaks