Club Picnic is the second episode of Season 8 of Numberblocks. This is the 107th episode in the series overall.
Synopsis
There are so many clubs for Numberblocks to belong to – it's time for Twenty-Nine to figure out where he belongs!
Plot
It's Club Picnic Day, with the Square Club not only participating- many other clubs are out there.
Twenty-Nine is participating in the picnic as to figure themselves out, with the help of Twenty-One in doing so. First, he determines if he's an odd or even number- he's odd, because they end in a Nine- any Numberblock that ends in 9 are odd. With that being done, Twenty-Nine tries to find another club to join.
Back at the Square Club picnic spot, the Square Club is now together with a new club- the Cube Club, sharing One as a member. Twenty-Nine attempts to join the clubs, but with no success in making a cube or a square. Remembering what Twenty-Seven said about making Cube Club, Twenty-Nine gets the idea to make up new clubs, starting with the Nine Enders, for numbers that end in 9, like himself. Nine is in for it, but accidentally releases a cloud of pepper that causes all him, 16, 25, and 25's own 9 to sneeze. Seeing the squares with holes, Twenty-Nine comes up with a new club idea: Squares with Holes Club, for numbers that can form a square shape with a hole in it, like Eight, Twelve, and Sixteen. With this inspiration, Twenty-Nine soon realizes how much clubs there really can be, and figures themselves out; a club fanatic, someone who likes making up clubs for Numberblocks. Twenty-Nine soon starts throwing badges onto the other Numberblocks, starting with Square with a Hole Club.
After assigning the Nine Enders their badges, Twenty-Nine is soon brought up to a new club: the Roaring Twenties, as they proceed to sing a song. With that, the Twenties are now complete.
Summary
A good way to figure out Numberblocks is by properties. Take, for example, One; an example of her properties include:
Square (1x1)
Step Squad (1)
Cube (1x1x1)
Odd Block
And more!
Learning Objective
This episode's learning objective is to learn about grouping numbers by numerical properties.
Characters
Trivia
This is the 4th appearance of Square Club.

Along with it, it includes the 3rd appearance of 16 sneezing and the 1st appearance of 25 sneezing.

According to the extended description, this episode is about grouping numbers by numerical properties.
This is the first time Twenty-Nine is seen as a figured-out Numberblock.
This is the third time Sixteen sneezes to a 12 and a 4 and the first time 25 sneezes to a 16 and a 9.
This episode completed the Twenties.
It is revealed that One is a cube number alongside Eight and Twenty-Seven. (1 by 1 by 1)
Five (physically) and Seventeen are the only figured-out Numberblocks from 1-29 to not appear. Zero also doesn't appear in this episode because according to the Numberblocks Twitter, she doesn't have any clubs to be assigned to.
The "Club Assigning" part, cleverly enough, has a reference of 20-29 in numerical order. For a full list:

Super Rectangle Club has 20 (and 24 and 28)
Step Squad Club has 21 (and also 28, but she doesn't get a badge onscreen for some reason)
League of Elevens has 22
Prime Club has 23 (and 29 himself)
Super-Duper Rectangle Club has 24
Square Club goes back to 25
Undercover Thirteens/Falling Apart Club has 26
Cube Club has 27
Rainbow Sevens has 28 (and 21)
Lastly, Nine Enders has 29

Said sequence misses a lot of badges for certain Numberblocks; for example, Twenty-Eight isn't given a Step Squad Club badge.

Of course, this may have been because Twenty-Eight wasn't in a step shape at the time, as Twenty-One's Step Squad Club badge disappears when she is given a Rainbow Sevens badge.

This episode confirms that Twenty-Six indeed splits upon hearing his name; when he does hear his name, his glasses prop up before he splits.
This is the third time Four has ignored a Round Thing.
The name of the "Roaring Twenties" is based on the same name as the real thing.
When Sixteen has received her Square Club Badge, her Square with a Hole badge is missing.

This may have been because the Sixteen that got the Square with a Hole badge added back with Eight and One to make Twenty-Five, or that Sixteen switched from her Square-with-a-hole form to her square form, as a similar situation occurred later, when Twenty-One was assigned a Step Squad badge, but it disappeared later, when she switched to her 3 by 7 form to get a Rainbow Sevens badge.
Video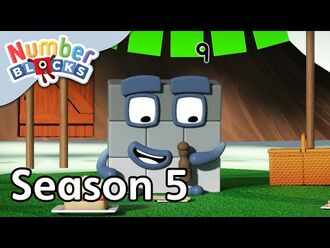 ---
Series 1
High Five!
One, Another One, Two, Three, One, Two, Three!, Four, Five, Three Little Pigs, Off We Go, How to Count, Stampolines, The Whole of Me, The Terrible Twos, Holes, Hide and Seek
Series 2
Ten out of Ten
Six, Seven, Eight, Nine, Ten, Just Add One, Blast Off, Counting Sheep, Double Trouble, The Three Threes, Odds and Evens, Fluffies, The Two Tree, Numberblock Castle, Ten Green Bottles
Series 3
Number Fun
Once Upon A Time, Blockzilla, The Numberblocks Express, Fruit Salad, Zero, Now We Are Six to Ten, Numberblobs, Building Blocks, Peekaboo!, Hiccups, What's the Difference?, Numberblock Rally, Five and Friends, Octoblock to the Rescue!, Ten Again
Fifteen and Friends
Flatland, Pattern Palace, The Legend of Big Tum, Mirror, Mirror, The Wrong Number, Eleven, Twelve, The Way of the Rectangle, Ride the Rays, Block Star, Thirteen, Fourteen, Fifteen, Tween Scenes, Step Squads
Series 4
Season 5
Fifteen's Minute of Fame, On Your Head, Ten's Place, Balancing Bridge, Sixteen, Square Club, Seventeen, Eighteen, Loop the Loop, Nineteen, Twenty, Tall Stories, Flights of Fancy, I Can Count to Twenty, Heist
Season 6
Sign of the Times, Fun Times Fair, The Lair of Shares, Terrible Twosday, Divide and Drive, Twenty-One and On, We're Going on a Square Hunt, Thirty's Big Top, Land of the Giants, Fifty, Sixty's High Score, The Big One, One Hundred, One Thousand and One, More To Explore
Series 5
Season 7
Your Turn, Now You See Us, Ten's Top Ten, What's My Number?, Fun Times One Times Table, The Many Friends of Twenty, Ten Vaulting, Twoland, Two Times Shoe Shop, Odd Side Story, How Rectangly!, Rectangle Racers, The Team Factor, Hidden Talents, Making Patterns
Season 8
Now in 3D, Club Picnic, Too Many Threes, Circus of Threes, Figure It Out, Snow Day Doubles, Steps Versus Squares, Puzzle Square, Four on the Floor, Sky High Fives, One Giant Step Squad, Square on the Moon, Heroes With Zeroes, What If?, 100 Ways to Leave the Planet
Specials
The Treasure of Hexagon Island, Double Back, About Time, The Twelve Days of Christmas, Making Friends, Crossover, The Case of the Missing Blocks, The Blocks v Blocks Games, (four unknown specials)
Other Stuff
Numberblocks Theme Song, Fourth Wall Breaks